Uncategorized
Sponsored Post: All Saints Giveaway: Win a $200 Gift Card from the UK brand
By
|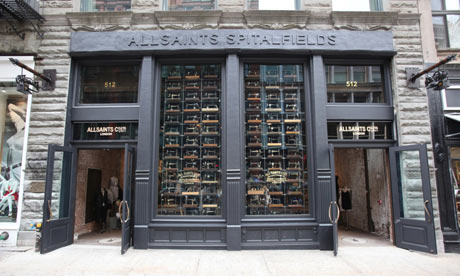 Pictured: The All Saints Clothing Store in Soho, NY
I'm excited to announce a very special giveaway on The Recessionista this week.  We're celebrating the last of August with a giveaway of a $200.00 gift card from upscale fashion label All Saints.  My affection for UK label All Saints is more sinful than saintly. That's because they have great quality pieces, although they are not always cheap.  Of course, you can always find All Saints Coupons  at ShopAtHome.com to help defray the cost. All Saints sells clothing for women, men and children.
Readers, have you heard about All Saints?  You'll know the clothier by the display of antique Singer sewing machines in their shop windows. We have them in Los Angeles on Melrose and in Santa Monica Place. In New York, you can find then in Soho.  And of course, All Saints has stores in the UK and Ireland. The shop was named for All Saints Road in the arty Notting Hill section of London.  Originally, the label began as menswear, but has expanded to women's clothing and children's too.  Here's what I like about All Saints.  The clothes are on trend, but not trendy, and by that I mean that you can wear and own them for more than one fashion season. Colors are subdued, nothing too flashy here and the vintage design influence is strong.  Plus, they have the most fantastic sales.  Check out their US flash sale now on dresses by clicking here to shop their sale via All Saints at ShopAtHome.com (to get the best deals, connect to All Saints via the ShopAtHome portal site) to see what I mean.  Besides their exquisitely tailored outerwear and classic dresses, one of the things All Saints does really well is to add embellishments to their garments, whether dresses or ladies tops.  Here's an example of one of those pieces,  their gorgeous Velutina Vest (top).  You know you need this top for special events or holiday parties, am I right? 🙂
Pictured: The Prize: the All Saints Veluntina Vest.
The top is delicately hand embellished with hundreds of  pearlescent sequins. It has a high neck,  a flattering racer back and concealed zip at back. This is just one of the many lovely pieces at the All Saints store that you may wish to spend gift card winnings on or use coupons towards purchasing.   I think this is an item that you can keep in your wardrobe for years as a classic piece.  In this piece, you'll look like the rockstar you are! After all, All Saints has a history of supporting and dressing rock stars like U2,  Robbie Williams and Kings of Leon.  They have a terrific series of musical clips called "The Basement Tapes" on their YouTube channel that you may wish to check out.
Now listen carefully. Here is what you need to do to enter to win the $200.00 gift card from All Saints.
1) Leave me a comment with your email address like so : saints (at) gmail dot com and just tell me that you want to win the gift card so you can buy things like the beautiful Veluntina Vest  top!


2) Become a ShopAtHome.com subscriber. ShopAtHome.com is sponsoring this giveaway.  Only existing ShopatHome users or new users will be eligible to win.  Click here to use my invite to join ShopAtHome.com if you are not already registered.  If you are not already registered with ShopAtHome.com, when you sign up, you'll receive a $5.00 credit deposited in your account, that you can use to shop (remember to shop within 30 days of joining to use it.)
Tell me in your comment that you are a user to be entered.
3) If you have joined ShopAtHome.com, and left a comment, then you get an extra entry by Tweeting up this contest, and telling me that you have entered.  
Sample Tweet:  All Saints #Giveaway: Win a $200 Gift Card for @AllSaints_via @shopathome @recessionista http://bit.ly/nA8rqA pls RT @VIB_ShopAtHOME
4) Enter by Sept. 5th at midnight PST. You have until after the Labor Day holiday to enter to win!
May the best reader of The Recessionista win!!