One of my favorite jewelry pieces is my beautiful Yummi Glass heart necklace.  When selecting a good piece of jewelry, I always recommend that you look for a simple, classic piece of jewelry that will sparkle and become a focal point.  The Yummi Glass Murano Glass Heart rimmed with 24k gold is just such a piece.  These hearts are pricey at retailers and boutiques like Henri Bendel New York and Fred Segal.  But you can now buy them online at YummiGlass.com and until Dec. 15th , you can save 20 % with coupon code HOLIDAY at checkout.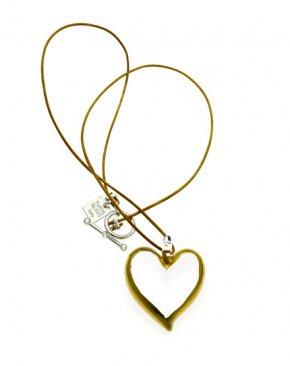 Pictured: My favorite year-round piece of jewelry, the Yummi Glass Heart.
If you're not familiar with Yummi Glass, definitely give it a look.  I have a whole collection of flowers, butterflys, stars, and more.  I never cease to get compliments on these unique pieces. In Los Angeles, Yummi Glass is something of a celebrity style secret.  It is frequently sighted on top stars, and sought after for celebrity gift bags.  The artist behind this line of exquisite creations is Allison Overbeke.  Her line of hand-crafted glass jewelry features hummingbirds, evil eyes, and  flowers that look like they stepped out of a Georgia O'Keeffe painting. All the Yummi Glass  rings, earrings, bracelets, necklaces, and cuff links are individually hand-crafted by gifted Italian glass artisans. In this era of "Made in China", lead tainted jewelry, the handiwork of each piece is truly unique. Producing quality pieces, rather than doing marketing or press, has always been the priority of Yummi Glass owner Allison Overbeke.  But the designer is finally stepping into the social media arena with a new Facebook group.  Check it out for all the news on  forthcoming pieces and more savings.  I think you'll agree, the jewelry is  amazing!