Pictured: Irene's version of a "Little Black Dress" from the  costume exhibit at the Ohio State University.
Once upon a time, there was an amazing designer who lived in Los Angeles. Her name was Irene Lentz-Gibbons. British Vogue called Irene's designs "Californian elegance." Way before New York Fashion Week, Irene held her fashion events at the beautiful art deco department store, Bullocks Wilshire. She also designed fashions for the store and privately labeled them. From 1935 to the mid 1940s, American designer Irene Lentz-Gibbons had her own salon in the midst of this retail Utopia. You didn't need to go to Paris or New York to get the latest fashions, you could simply head to Bullocks-Wilshire and visit Irene.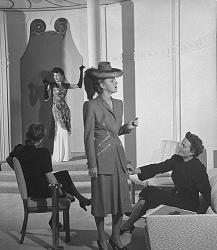 Pictured: Irene and her assistant in her salon at Bullocks-Wilshire rehearsing models.

(photo: Bullock's archives)
She was the first designer with a salon installed in a department store. But this was no ordinary department store. Bullocks-Wilshire was known as the epitome of luxury and style. America had not yet found its way out of the Great Depression, yet there was still a market for the exquisite designs of Irene. Movie stars flocked to her. Dolores Del Rio, Vivian Leigh, Greer Garson, Ginger Rogers and the wealthy of Los Angeles all wore Irene. Even studio secretaries desired a suit by Irene. Her tailored suits retailed from $400.00 to $700.00 back in the 1930s at Bullocks. The "Irene" suits were carefully constructed to show off the thinnest point on any woman, the waist. Buttons were hand selected by the designer. Irene would mix buttons of various shapes and sizes. Sometimes there would be a large ornate button at the top of a suit, followed by a string of smaller buttons.
Pictured: An example of how Irene liked to mix button sizes on her suits.  This suit is from Los Angeles Vintage store, The Way We Wore.  They have several "Irenes" in stock.
  (photo" M. Hall)
 
Her evening wear featured beading, black lace and sometimes large bows on the side of the garment or tied at the back.  Her carefully draped evening gowns were called the "soufflé " look.  Irene's version of the little black dress was a revelation, with carefully placed tucks , darts and pleats to streamline the waist and the bust. She really contoured her designs to fit a woman's shape and curves. Below is one of her original Bullock's dresses with matching coat from the collection of Greg LaVoi. The sculptured neckline is amazing.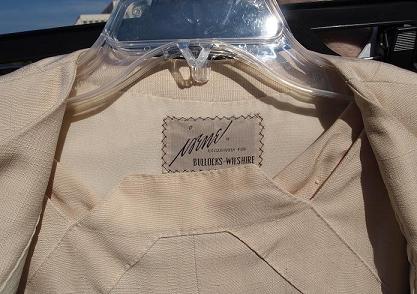 Pictured: An original Irene for Bullocks-Wilshire, from the collection of Greg LaVoi. (photo: M. Hall) 
Pictured: This Irene dress for Bullocks-Wilshire, from the collection of Greg LaVoi, features panels sewn into the armhole of the dress for extra contour and ease of movement. The effect is beautiful.

(photo: M. Hall) 
If you went to the Irene salon at Bullocks-Wilshire, you could expect to receive very personal service from the designer. Service was intrinsic in the price tag of an original Irene from Bullocks. Irene was present in the salon along with a tailor and a "cutter". Each Irene garment could be fitted to the prospective buyer. If a customer decided to purchase an original "Irene", then the designer herself would go to woman's shoes and jewelery to pick out the right shoes and jewelry to go with your "Irene." Models strolled through Bullocks-Wilshire in original "Irenes" for customers to peruse.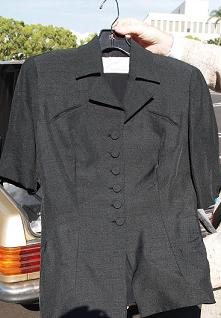 Pictured: An original Irene suit jacket for Bullocks Wilshire, from the collection of Greg LaVoi.

(photo: M. Hall)
Irene left Bullocks-Wilshire to become executive designer for Metro-Goldwyn-Mayer Studios. She designed costumes for over fifty films. Later, she sold an "Irene" line at New York's Bergdorf Goodman, Chicago's Marshall Field and Dallas' Neiman-Marcus. Eventually, those lines perished as did the Bullocks-Wilshire store. The store closed in 1992. Today, the Irene salon still lives on as part of the Southwestern Law School. Yesterday, I took the tour of Bullocks-Wilshire, sponsored by the law school.  I was pleased to see the Irene salon almost exactly as the designer had left it. Her sketches were hanging on the walls along with a few plaques commemorating her designs. You can almost hear the footsteps of a frequent visitor to Bullocks, Gary Cooper, bounding up the stairs into the salon to visit his special friend, Hollywood's hottest designer, Irene Lentz.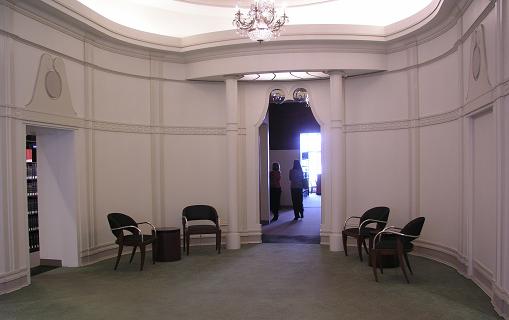 Pictured: The Irene salon today, as part of the Bullocks Wilshire building at the Southwestern School of Law in Los Angeles, CA

(photo: M. Hall)
How pleased I think Irene would be to see the Southwest Law School preserving her salon and
The Closer's
Brenda wearing her beautiful suits. Style never dies. Especially when it has an Irene label on it.
If you're a Vintage lover, look for Irene at The Way We Wore, online vintage and auction sites.  And every now and then, you just might see one of her old garments at your local Goodwill store too, in the Vintage section.


Note: Special thanks to Olympus for loaning me the new Olympus Pen digital camera to capture the beauty of Bullocks Wilshire and Irene's designs.