Pictured: Cat Deeley alongside her Indian-inspired earrings. (Photo QVC; Juan Rico/Fame , courtesy of People Stylewatch.)
As an avid subscriber, I do check my PeopleStylewatch for the latest trends. I like their reports on new fashion trends laden with lots and lots of pictures.  So I was really curious this week to read the news that reality dance show host, Cat Deeley , was bringing out a low priced vintage inspired line for QVC. One thing some established, and well trained (via Parsons or the like) have mentioned to me in interviews with dismay is the proliferation of these celebrity fashion lines. A nameless designer lurks behind the scenes churning out the fashions, while the celebrity name goes on the label.  I wonder if there is someone behind the Cat Deeley line? Afterall,  Cat is the host of So You Think You Can Dance, not So You Think You Can Design Jewelry. I do like her fashion philosophy. "I really want to provide jewelry that people can wear and are real statement pieces that can completely change an outfit but are accessible to everybody. Because that's what fashion should be about," says Cat.
  
Although Cat may not be the sole designer here, some of the collection is very cute and does channel old vintage looks.  I wouldn't go to QVC for Indian inspired earrings, I would go to Amrita Singh for those, but I do like some of the bracelets and necklaces from Cat's Modern Vintage line.   Here are a few of the pieces I like from looking at the photos: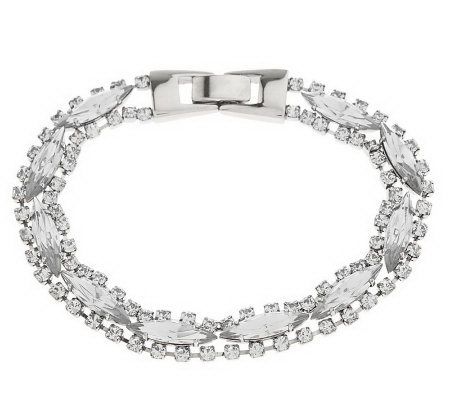 The Crystal Marquise Bracelet for $29.56. I like the delicate design of the gems in the middle flanked by a row of little crystals on either side.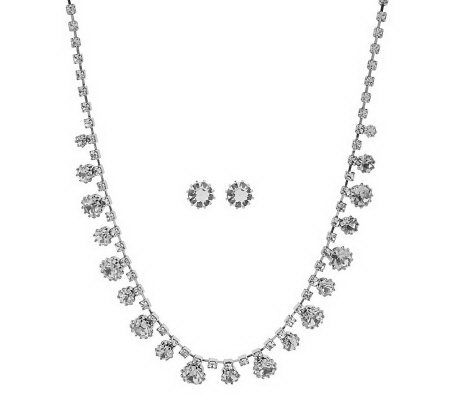 The Crystal Necklace & Earrings Set with the delicate little emerald, pink, purple or even light blue colored gems (your choice.) The price for the set is $39.50, which I do think is reasonable.  I like the Victorian look of this one.  I'm bookmarking the the link on the QVC site  to check user reviews when they arrive in.  I'll be curious to see if those who order it are pleased with it.
What do you think readers? Are any of you dying to snatch up Cat Deeley Modern Vintage? Have you bought jewelry from QVC in the past? Personally, I am still entranced by the Jacqueline Kennedy collection.  I heard from QVC via Twitter that they will have shows on the Jacqueline Kennedy Collection on 6/24 and 6/27.  I can't wait!